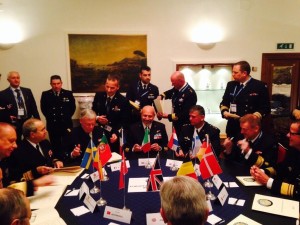 [1]Lo scorso  venerdì 8 maggio si è svolto a Napoli il CHENS (Chiefs of European Navies), un forum annuale che vede riuniti attorno allo stesso tavolo di lavoro i Capi di Stato Maggiore di 26 Marine Militari europee, membre della NATO e/o della EU (Albania [2] - Belgio [3] - Bulgaria [4] - Croazia [5] - Cipr [6]o - Danimarca [7] - Estonia [8] - Finland [9]ia -Francia [10] -Germania [11] - Grec [12]ia - Ital [13]ia - Irland [14]a - Lettonia [15] - Lituania [16] - Malta [17] -Olanda [18] - Norvegia [19] - Polonia [20] - Portogallo [21] - Romania [22] - Slovenia [23] -Spa [24]gna - Svezia [25] - Tur [26]chia - Regno Unito [27]).
I lavori del CHENS 2015, aperti dal Capo di Stato Maggiore della Marina Militare Italiana, ammiraglio di squadra Giuseppe De Giorgi,  hanno riguardato le sfide attuali che vedono impegnate le Marine europee, come la sicurezza dell'ambiente marittimo e il ruolo delle Marine negli scenari contemporanei, raggruppate sotto il titolo From Traditional Roles to Emerging Security Challenges. How to Adapt our Navies to a Fast Changing World.
Il CHENS si pone l'obiettivo di promuovere la comprensione ed il dialogo tra le Marine, esaminare gli argomenti di comune interesse ed accrescere negli Stati membri la consapevolezza dell'importanza del dominio marittimo.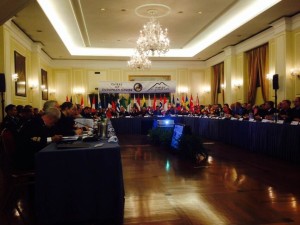 [28]
La Marina Militare Italiana aveva retto la presidenza del forum già nel 1999-2000 con l'ammiraglio Guarnieri e l'ha nuovamente assunta nel 2014 alla conclusione del Meeting di Portsmouth, per poi cederla alla Marina estone proprio ieri al termine del Meeting di Napoli.